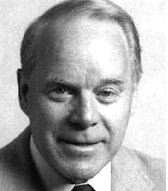 Of NIGHTFALL's 100 episodes, almost 1/3 were adaptations of both popular and obscure short stories. This week's offering is arguably the best of these, penned by one of Canada's foremost playwrights, the late Len Peterson (photo left). It's the definitive example of the old adage "be careful what you wish for."
This was the first of five adaptations written for NIGHTFALL by Mr. Peterson (not including the elusive "Dreamy", which wasn't a NIGHTFALL episode at all, but which included many of the show's regulars and aired in its time slot). I had a chance to meet and interview Mr. Peterson in 2004 and I hope to write up that interview at a future date. (I'm also pleased to say that this was one of the first NIGHTFALL plays my radio drama troupe, The Post-Meridian Radio Players, performed live).
So now, sit back and enjoy the first of NIGHTFALL's many adaptations.
---
Audio clip: Adobe Flash Player (version 9 or above) is required to play this audio clip. Download the latest version here. You also need to have JavaScript enabled in your browser.
The Monkey's Paw

Air Date: 7/11/1980
Writer(s): Len Peterson (based on the short story by W.W. Jacobs)
Production Location: CBC Toronto
Producer: Bill Howell
Featuring: Ruth Springford, Eric House, Chris Wiggins, Michael Wincott, Graham Haley
Commercial Synopsis: A British Army Sergeant-Major returns from years of service in India with more than just the usual military yarns. (NPR)
---
If you like what you hear, please contact the CBC Shop and encourage them to release the series!